Upcoming Events
Plugging In: The Value of Electric Vehicle Technology
Wednesday, October 8th, 2014
A growing number of organizations have realized the environmental and economic benefits of adopting Electric Vehicles (EVs) into their fleets and deploying EV charging stations. Join us to experience EV technology firsthand (EVs and charging stations on-site, including test-drive opportunities) and learn how you can add value to your organization from a panel of local champions.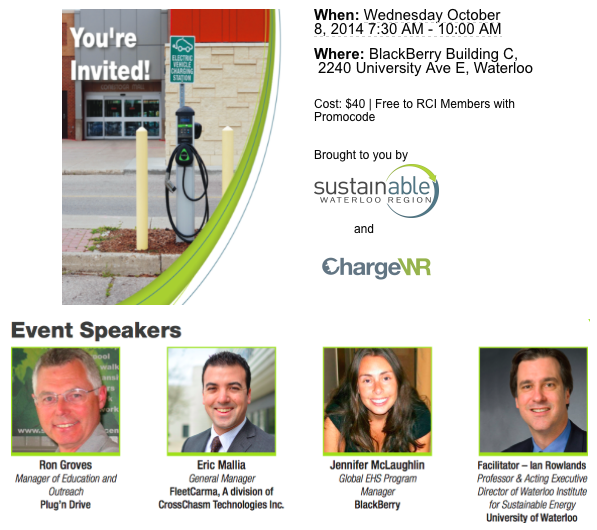 Peer Learning Session: Fleet Management
Thursday, October 16th, 2014
Is fleet a large part of your organization's carbon footprint? Join other RCI member organizations to share current challenges and innovative solutions at this discussion-based session.
Please email Lisa.Chapman@sustainablewr.ca if you are interested in joining us.
---
About our Events
Sustainable Waterloo Region hosts an event season focused on connecting Regional Carbon Initiative members with the expertise and collaborative learning opportunities necessary to implement effective GHG reduction strategies. Our events provide the unique networks, direction, and inspiration for building environmental sustainability into an organization's culture.
We welcome anyone interested in making advancements towards more sustainable operations to attend a Regional Carbon Initiative event.
Our event season includes:
Educational Forums (Quarterly): Provide attendees with the opportunity to hear from subject-matter experts and their peers about successful case studies and inspirational stories, in order to learn cost-effective best practices with respect to reducing GHG emissions.
Technical Workshops (Quarterly): Provide attendees with technical information from GHG Services Professionals (engineers, consultants, and energy specialists) in Waterloo Region, with a focus on helping employees responsible for their organization's GHG reductions implement successful reduction strategies within their organizations.
Peer-2-Peer Networking Sessions (Monthly): Co-hosted with Communitech, each Peer-2-Peer Networking Session provides sustainability minded individuals from RCI and Communitech member organizations a forum to discuss green team challenges, share proven approaches, explore opportunities for collaboration, and gain project feedback and advice from peers.
Annual Evening of Recognition: At the end of each reporting year within the Regional Carbon Initiative, Sustainable Waterloo Region celebrates the achievements of members by hosting an evening event that is attended by a cross section of people from our community who come together to recognize RCI members' GHG emission reduction accomplishments. The event also coincides with the release of our year-end report.
All RCI members receive complementary admission passes to events. If members are unable to attend events or wish to review speaker presentations, all event presentations are recorded and made available through MemberLink, the RCI online community.